Our Planters
Extreme Custom Food Plots, LLC has a John Deere 7000 planter, this unit is equip with no till coulters and "yetter shark tooth trash whips" This planter is recommended when planting in an established food plot. It is used to plant sunflowers, soybeans, and corn in 30" rows.



No-Till: Great Plains 3PT606NT Drill
We also have a Great Plains No till drill equipped with clover seed box, oats box and native seed box. This drill has 7 1/2" spacing's and can plant everything but corn. As you can see in the pics of these planters both are equipped with in furrow and calcium spray bars. The advantages to the no-till are:
C

onservation of moisture in the soil for those hot dry summers




Lower cost of installing the food plot




Better weed control




With a short planting window some years, this could make the difference in getting your plot planted




This method requires less cooperation with mother nature.




Increases organic matter.

Improves soil tilth.
---


Our 8' Brillion Seeder
The simplicity of the Sure Stand Concept is still the best way to seed legumes, brassicas, switch grass and lawns efficiently. The larger front notched roller firms the seedbed and puts shallow indentations into the soil surface. The seed is metered from the seed boxes to free fall onto the deflectors. The deflectors spread the seed across the full width of the seeder for a broadcast style of seeding. The smaller rear roller, with its notches splitting the middle of the front indentations, squeezes the soil around the seed for the ultimate in seed to soil contact and consistent seed placement. That's the Sure Stand Concept.
---
New Technology on our Planters
Extreme Custom Food Plots has put in-furrow (places a small amount of liquid fertilizer with the seed in the row) fertilizer application technology on their planters along with the ability to spray liquid calcium behind the planter.
When tillage is needed or wanted, here is our equipment for custom tilling your food plot:
Extreme Custom Food Plots, LLC has a 3 bottom plow which we use to prepare a plot where the soil has not been tilled or worked for years, like CRP ground. We prefer to spray your future food plot with a herbicide prior to plowing the soil.

Extreme Custom Food Plots, LLC utilizes our DH2596 Land Pride Disc. This disc is equipped with disc cleaners. There a 4 adjustments from finishing to 21 degree aggressive rough till.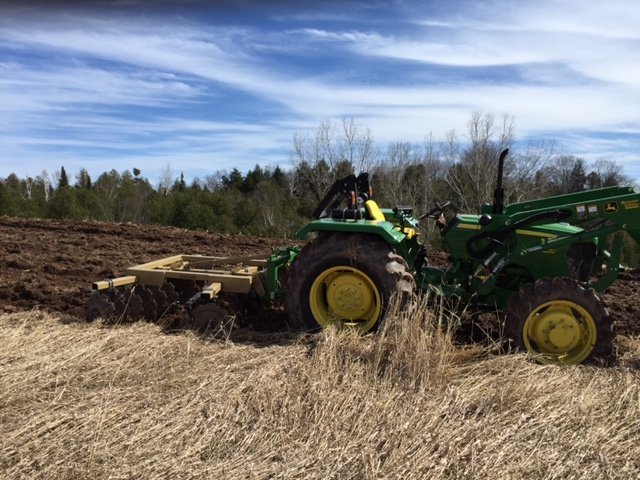 Extreme Custom Food Plots, LLC has a Maschieo 100' Tiller for tilling food plots.
Weeds can be a food plots WORST enemy. Extreme Custom Food Plots, LLC has the correct equipment to apply herbicides precisely and accurately. This will help achieve the maximum potential of a food plot. We have the ability to apply herbicides both pre-plant and post emerge. ALL virgin plots should be sprayed with a burn down prior to any tillage. Extreme Custom Food Plots, LLC is Licensed and Insured for commercial pesticide application. We have both large and small sprayers to accommodate a food plot.


What is Forestry Mulching?
It is a spinning barrel with hardened carbide teeth that mulches and chews up trees and brush on site. It leaves a layer of mulch on the ground (organic material) which in time will become organic matter. The benefits of this type of land clearing is it minimizes erosion, and takes away the hassle of trucking, burning, and burying stumps and debris.
Pic below is after thinning out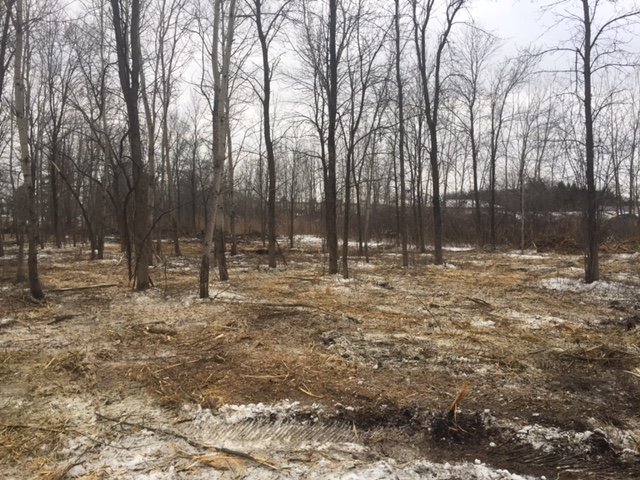 Here are the services, but are not limited to what ESFP will offer
Food Plot Clearing

Shooting Lanes for Hunters

Trails -Walking,Horse,ATV

Agricultural Fence line clearing

Lot Clearing

New home construction

Roadside/Driveway mulching

General brush mulching

CRP (Invasive tree or brush ) removal

General Land Clearing- Residential or Commercial

Utility Work/ Powerline

/ Pipe Line



Post MFL & FCL cleanup & selective species removal
Stump Removal
This service will turn your wooded property into the full potential you dreamed about !!... And then some !!
Please contact Scott at 920-255-6388 or scott@extremecustomfoodplots.com

Fully Insured