Maximizer Plus Feed Concentrate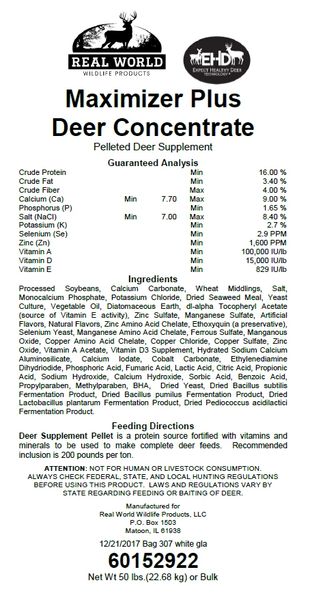 Maximizer Plus Feed Concentrate
Description
Maximizer Plus "Feed Concentrate"
Real World's 
Maximizer-Plus Feed Concentrate
 is a pelleted feed product that contains all of the vitamins, minerals and other nutrients needed in a whitetail's diet. It was developed by professional nutritionists and a leading whitetail veterinarian as an easy-to-use product for providing every nutrient needed by whitetails. Simply mix Maximizer-Plus feed concentrate with grains and other ingredients at a rate of 200# per ton of feed. Maximizer-Plus Feed Concentrate is the same pellet that is used within our Maximizer Complete Feed. This product should be used for those wanting to provide every vitamin, mineral and nutrient a whitetail needs plus Real World's Expect Healthy Deer Technology.
Here are a couple of very simple feed recipes for using Maximizer-Plus feed concentrate pellets to make a ton of complete deer feed. The Maximizer-Plus concentrate pellets contain every vitamin, mineral and micro-nutrient needed in a whitetails diet, plus our exclusive Expect Healthy Deer Technology with probiotics for improved performance and health benefits. The grains and other ingredients provide macro-nutrients such as protein, fat and fiber.
Fall-Winter Mix (to be fed September thru February)
1150# corn (whole or rolled)
400# roasted soybeans
200# oats
200# Maximizer-Plus concentrate pellets
50# soy oil
Spring-Summer Mix (to be fed March thru August)
1000# corn (Rolled or whole)
500# roasted soybeans
200# oats
200# Maximizer-Plus concentrate pellets
100# soybean oil
Real World Wildlife Products recommends that you provide the above feed mixes free-choice in gravity-fed feeders during the entire time it is legal to do so in your area. Be sure to use feeders that keep the feed dry to prevent mold issues and always consult your local game laws regarding supplemental feeding deer and other wildlife.