Soft Side 360° Burlap Deluxe Low Profile 6x6 Blind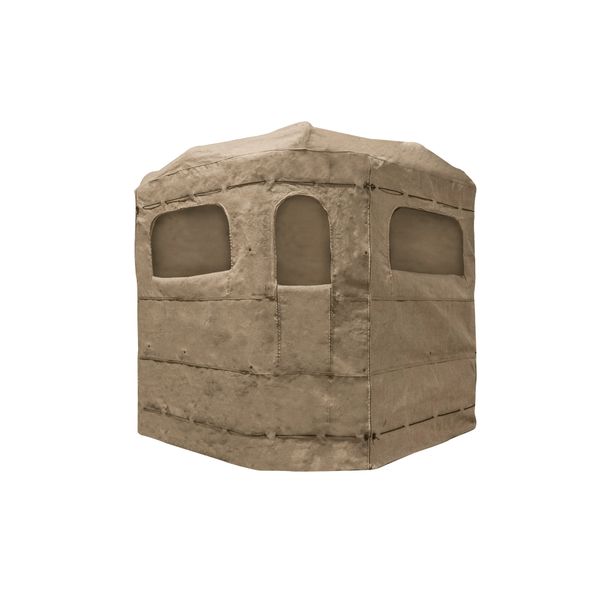 Soft Side 360° Burlap Deluxe Low Profile 6x6 Blind
The Soft Side 360° Burlap Deluxe Low Profile 6x6 Blind features a durable three layer cover consisting of a natural burlap layer bonded to a tough 600 denier woven fabric, and is then bonded to a tough water resistant PVC backing. The natural looking burlap blends in well to native surroundings; looking very similar to regular hay bales left in the field. The cover features brush in straps and bungee cords so you can brush the blind in with native foliage to conceal it from your trophy buck or that huge gobbler. The windows and doors are all opened and closed with durable heavy-duty zippers.
The blind also features a semi-permanent, heavy-duty, black powder-coated steel frame that is built for the toughest of conditions and snow loads, and it bolts together in about 35-45 minutes.
The water resistant cover attaches to the semi-permanent frame with Velcro straps, sewn on bungee cords, and zippers. The cover can easily be removed for off season storage, while the powder coated steel frame can be left outdoors year round.
The blind has been strategically designed in an octagonal shape to allow for the placement of (4) 10" by 32" vertical windows and (3) 14" by 30" horizontal windows. The windows have silent-slide mesh curtains on the inside to help hide movement, and the crossbar located directly below each horizontal window makes a perfect gun rest when combined with the Redneck Window Gun Bag Rest. In addition, the highly functional Redneck Blind Gear Console can be mounted inside to store gear, snacks and drinks.
The blind has an open floor and can be mounted to a variety of platform options from Redneck.
Dimensions:
Door
32" wide X 54" tall.
Will open wide enough after unzipped to allow get a 36" wheelchair thru.
Interior
70" Wide x 70" Deep x 65" High
Exterior
72" Wide x 72" Deep x 67" High
Door Window

17" Wide x 10" High

Front Window
30" Wide x 14" High
Side Windows
(2) 30" Wide x 14" High
Note: 36" height from ground to bottom of horizontal windows
Corner Windows
(4) 10" Wide x 32" High
Weight
107 lbs
Included Accessories
See-thru, silent slide camo mesh curtains
Blind Bow Hanger & Blind Gun Holder
Two 24" heavy rebar anchoring stakes
Optional Accessories