THE STALKER PLATINUM 360° 5X6 BLIND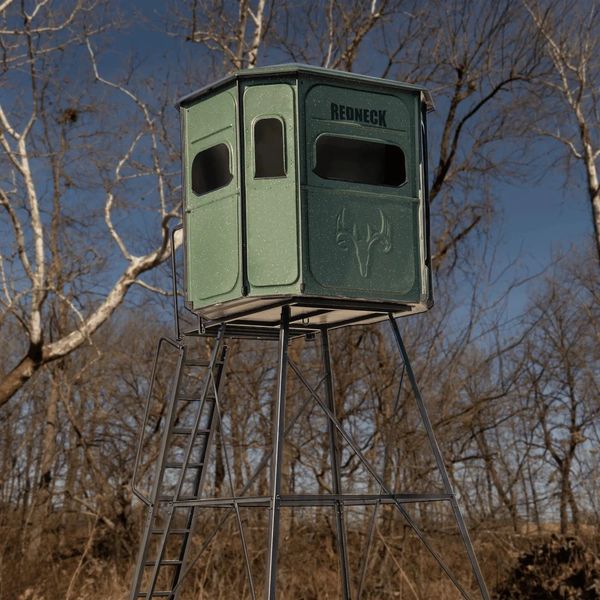 THE STALKER PLATINUM 360° 5X6 BLIND
The Stalker 5x6 Platinum 360° Hunting Gun Blind is the ultimate 2 person gun blind. Modeled off the Predator 5x6 design, it has a total of 8 shooting windows for rifle hunters, along with the versatility to hunt with a bow or crossbow out of the corner windows, providing maximum shooting field visibility.
The spacious interior combined with incredible visibility sets the standard for comfort and usability among gun blinds.  Combined with full-length shelves designed with integrated gun holders, it's easy to see why the Stalker 5X6 is the most comfortable and hunter-friendly gun blind on the market!
Redneck Platinum series blinds set the standard for functionality and comfort when hunting. The two large oversized front horizontal windows make it easy for 2 hunters to each have a shooting window in the roomy 5x6 interior. Combining these features and you have a perfect blind for a crossbow or gun hunting, giving you plenty of room, visibility, and angles to make a perfect shot when the animal your hunting presents itself—plenty of room for up to 2 adults.
A QUALITY BUILT FIBERGLASS HUNTING BLIND
Made from long-lasting fiberglass with a durable gel-coat finish. The 2" roof overhang and window drip edge help keep the rain off the windows, giving you a clear view of your hunting grounds. The interior of the blind comes with a closed-cell foam insulated ceiling, acoustical foam-covered walls, and a high-density foam pad underneath a marine-carpeted floor that provides for superior sound control and insulation. A mounted gear console and shelves with gun holders help organize your blind, and one Green LED Light under the front.  Large tinted, tempered automotive-glass windows with whisper-quiet window hinges provide a clear view. High-quality automotive window gaskets and door molding help keep your scent in, the blind dry, and the pests out. The fiberglass bottom prevents rotting and varmint damage.
Blind can be mounted to Redneck's heavy-duty powder-coated steel stands or unique trailer stand or blind sled. The blind comes completely assembled. Instructional DVD and printed instructions included ensuring a safe setup. Blind is made in the USA.
STANDARD HUNTING BLIND FEATURES INCLUDE:
Made from long-lasting fiberglass
Large tinted tempered, automotive-glass windows
Horizontal glass windows for crossbow or gun hunting
2" roof overhang and window drip edge help keep the rain off the windows
Closed-cell foam insulated ceiling, acoustical foam covered walls, and high-density foam pad underneath marine-carpeted floor provide for superior sound control and insulation
1 highly functional gear console pre-installed
Built-in shelves and gun holders
EZ-Pull silent window opening system for horizontal windows
Green LED Under-mount Light
Full line of blind accessories available
Instructional DVD and printed instructions included
AVAILABLE IN THESE CONFIGURATIONS:
5x6 Blind Only
5x6 Blind on 5ft Stand
5x6 Blind on 5ft Stand with Porch Extension
5x6 Blind on 5ft Deluxe Stairway System
5x6 Blind on 10ft Stand
5x6 Blind on 10ft Stand with Porch Extension
5x6 Blind on 10ft Deluxe Stairway System
5x6 Blind on 15ft Stand
5x6 Blind on 15ft Stand with Porch Extension
5x6 Blind on Trailer Stand
5x6 Blind on Blind Sled
DIMENSIONS:
| | |
| --- | --- |
| Interior | 80"H x 70"W x 58"D |
| Exterior | 82"H x 74"W x 64"D |
| Front Window | 14"H x 36" W |
| Door Window | 10"H x 18" W |
| Side Windows | 14"H x 25" W |
| Corner Windows | 10"W x 18" T |
| Horizontal Window | 36"H from floor to bottom window |
| Weight | 335 lbs |